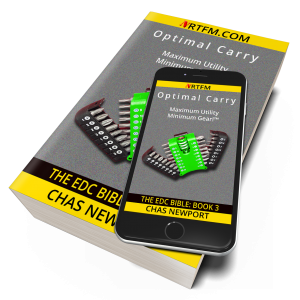 Maximum utility, minimum gear!
Maximum utility, with minimum gear. We apply that simple principle to:
Fire: No other animal has mastery - use it!
Water: A single item for hundreds of litres.
Cutting: Know your choil from your ricasso.
Sharpening: An in-the-field essential.
Sawing: Compact tools for fuel and shelter.
Levering (Prying): Don't snap your blade!
Torque (Twisting): If you can't screw screws, you're screwed.
Lighting: Learn why you need UV, red and white.
Magnification: From splinters to distant landmarks...
Multi-tools: Arguably the single most useful item.
Pocket Knives: More compact but almost as useful.
Navigation: The latest hybrid compasses.
Signalling: Easily get noticed and found.
Rope and Cord: There's more to life than paracord!
All NRTFM books come with Triple Jump Indexing. Three steps from the Table of Contents and you are on the topic you need. This is done with clicks/taps in the eBooks and with page numbers in the printed versions. Our books also have Live Links to additional information on Wikipedia and other sites, plus rapid shopping from web-connected devices. Even our paperbacks have the links collected on a single page of our website and clearly marked in the text.