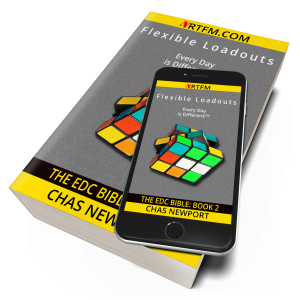 Every day is different!™
There's a problem with fixed loadout EDC bags: Every day is different! 
Easily flex yours to suit journey variables:
Projected weather conditions.

Tools for transport problems.

Planned activities and tasks.

Journey duration and distance.
Our solution is a Flexible Loadout System:
Define simple functional units of gear.

Define simple units of food and drink.

Pre-pack and tag all the kits.

Empty and re-pack in a few minutes.
Tag these pre-packed modules so you can:
Allow quick identification and packing of required items.

Indicate dangerous items or those needing supervision.

Flag inventory which needs top-up or expiry date checks.
Our system doesn't need any fancy equipment. We define a simple, effective system to make familiar luggage systems more flexible.
All NRTFM books come with Triple Jump Indexing. Three steps from the Table of Contents and you are on the topic you need. This is done with clicks/taps in the eBooks and with page numbers in the printed versions. Our books also have Live Links to additional information on Wikipedia and other sites, plus rapid shopping from web-connected devices. Even our paperbacks have the links collected on a single page of our website and clearly marked in the text.